Okay I'm just a little bit giddy this evening. It may be due to having been awake since 4.30 AM, but that normally results in my being more 'zombie like' rather than 'totally stoked'.
This weekend I have the privilege of speaking on the Facing Cancer Together panel at the Shesconnected Toronto conference. This place is like my networking dream come true. Firstly it's full of interesting and smart women. Secondly everyone GETS IT:  sometimes I go to local networking events in Ottawa, which are actually really excellent except that no one understands what social media is about. Blogs, twitter, facebook (and a million others) leave people stumped. So okay, that's fine as in there's no competition for social media in that group of successful women, but I do appreciate companies that appreciate what a blogger or social media person can do.  (I'm not going to go into what we can do right now, but it's largely about relationship building and sharing stories – bringing that all back to the brand)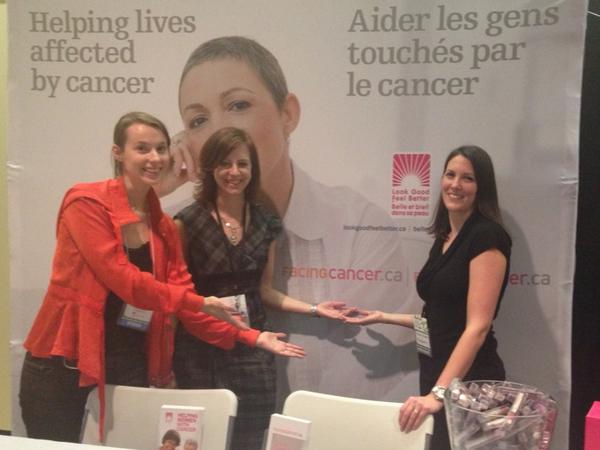 Anyhow. The train pulls in this morning around 10 AM after a four and a half hour ride from Ottawa. I attempted several sleeping poses on the train including the pretzel, the slouch, the sit back, the fist stack and your classic window lean. (Maybe I slept 20 minutes.) I boot it to the hotel with my luggage, drop my stuff, splash my face – and BAM! I'm down at the conference before you can say "YippiDoDah" six times backwards.
This conference is a mix of brands that love the social media or want to develop themselves in that line of marketing (blogging, tweeting, etc.ing) and bloggers who generally have an established, interactive and impressive audience.
[Bumpyboobs' side note: my audience may not be huge, but you are all so very impressive – which is why I love to follow your stories too; you get me laughing, thinking and enjoying the good company.]
There are also new bloggers, and companies only just getting started with the social media. Basically it's about learning and connecting with the women and the brands.
Right – five "HadOdIppiys" later and I'm at the FacingCancer.ca booth greeting the awesome ladies of the Fc.ca, Look Good Feel Better and the CCTFA community. Everyone is in a perfectly lovely and happy mood, and there is no stress whatsoever about completely lost signage that is somewhere in Toronto with the delivery guy who failed to deliver. None whatsoever. 😉 (But it did show up eventually, and oh my goodness our booth looks beautiful!)
I decide not to be super supportive, and instead drop my stuff and go walk around the conference. The conference was really cool; in the course of five minutes I'd hunted out a brand I was curious to meet – they are called Elephoto, and they are quite possibly going to feed into my photobooking /  photocalendering / photomugging / and  photokeychaining addiction in the future. They're a Canadian company, so I can skip the over-the-border charges, plus they seem quite good quality. Anyhow, we'll see how that goes. I have this weird love of printing – whether it be books (see my MA baby here), pictures, or business cards, and the sight and touch of high quality paper strikes me deeply with satisfaction.
Weird, or what?  That's like having a G-rated fetish.  If I can meet some Moo.com reps tomorrow, then my weekend will be complete.
But anyhow! Between the talks on social media, I did go back to the Facing Cancer Together booth to hang out, and cheer them on when the banners and goodies finally did arrive. And while standing there bloggers would come up and inevitably be ask if they had heard of the Look Good Feel Better program, and told about this new intitative of online support called FacingCancer.ca – some ladies just take a pamphlet and say thanks. Others stop for a moment – and if they stop, even for a moment, then you know they have story to share.
Every time I popped back to the booth, there was another woman letting us know how cancer has touched her life, or the lives of those she cares about. Every single time. Which only confirms how important it is to have these conversations, and share the message that support is out there – actually, it's right here. . . and it's available for everyone, even if 'supports groups' aren't your thing.
Anyhow. Tomorrow is the panel at 4 pm where we'll discuss online communities and finding support, plus why blogging is awesome for your well-being. It will be a day full of talks, and hopefully full of interactions and introductions.
It is such a good conference, and like I've said, I'm really so happy to be here.